New Year Russian-Style
Throughout December 2022, the advisers of the Department of Foreign Languages (Russian language teachers) wanted overseas FIME students to fully assimilate into a traditional New Year celebration in Russia and hosted a party for them on New Year's Eve.
The students learned such New Year words as 'подарок', 'праздник', 'Новый год', 'ëлка', 'куранты', 'снеговик', 'Дед Мороз', 'Снегурочка' (a gift, the holiday, the New Year, the Christmas tree, the chiming clock, the snowman, Father Frost, and Snow Maiden). They got into the New Year spirit when making Christmas decorations and gift boxes for sweets, listening to Russian New Year songs and watching holiday-themed films and animated cartoons. The guys were also sure to decorate the main symbol of the New Year – the Christmas tree – with golden balls, bright bows and a multicolored garland all together.
The celebration proceeded to play winter games. The students took part in the competitions with much interest. Everyone could play snowballs, test themselves with funny quiz questions, run around the chairs during the New Year marathon and, certainly, get sweet gifts from the main characters of the holiday – Father Frost and Snow Maiden. The two invited the students to play 'I'll Freeze You!', did a circle dance with the guests and were very friendly to sing the traditional song of 'The Russian New Year'.
As you may know, the Russian New Year is famous for its delicate, nutritious dishes. So the teachers treated the international students to traditional New Year tongue breakers: Olivier salad, Russian dressed herring, caviar sandwiches. The guests competed in making Olivier salad!
At the end of the holiday party, the guys lit Bengal lights (another Russian tradition), posed for pictures with Father Frost and Snow Maiden near the New Year tree, and then decided to take on the roles of Father Frost and Snow Maiden.
Happy New Year 2023!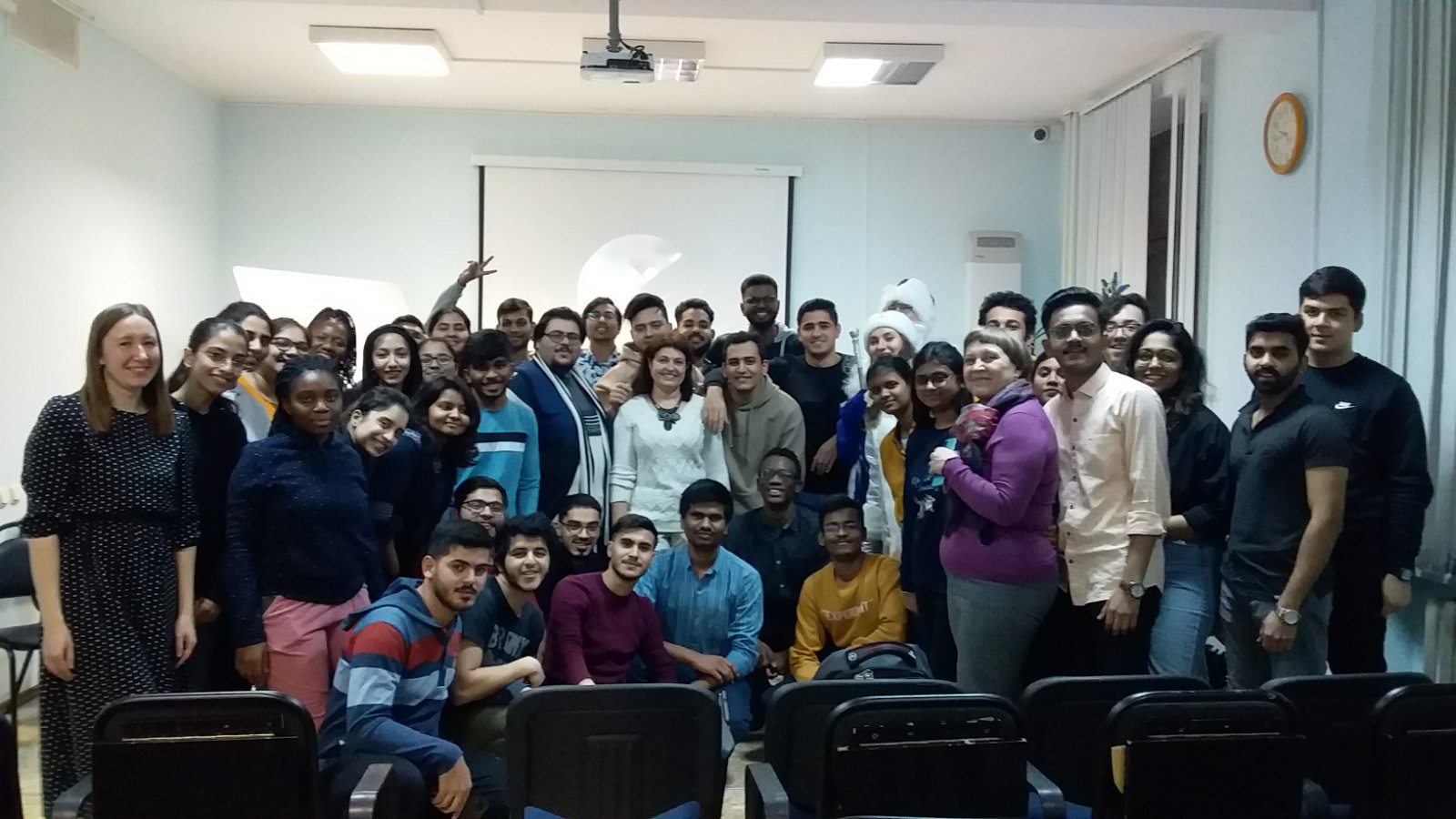 Latest University news
Stay up to date with all the news.