About the University
Official Name
University Authorities
Central Avenues for Research

Majors

University Hospital and Research Institutes

Collaboration

Full: Federal State Budgetary Educational Institution of Higher Education «Privolzhsky Research Medical University» of the Ministry of Health of the Russian Federation
Short: FSBEI HE PRMU MOH Russia
Accreditation series 90А01, №0003001, registration №2859 date of issue 26.06.2018
License series 90Л01, №0009840, registration №2739 date of issue 7.05.2018
10/1, Minin and Pozharsky Sq., Nizhny Novgorod, Russia, 603950,
pimunn.ru
Rector's Office
tel. +7(831)422-12-50
Email:
rector@pimunn.ru
International Affairs Department
Tel. +7(831)422-12-62
Email:
interstudy@pimunn.ru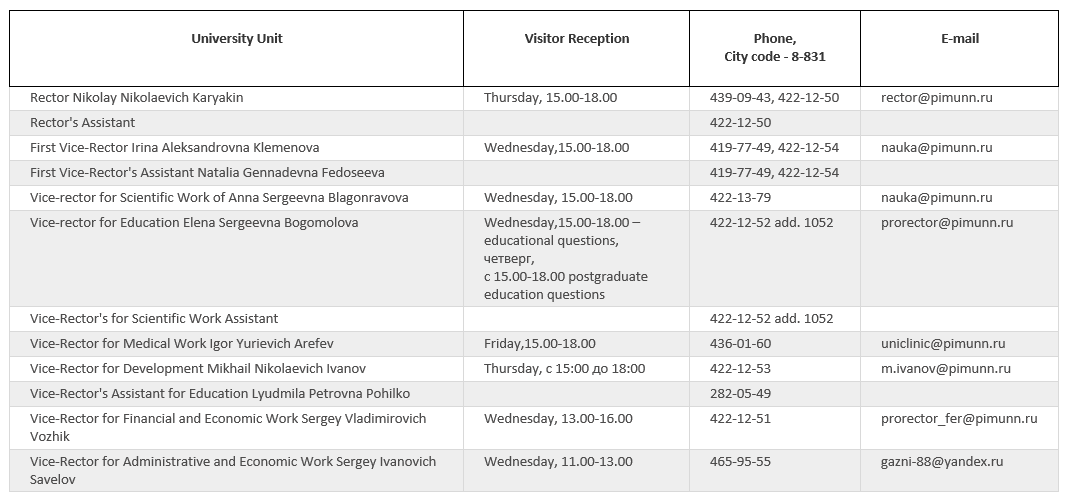 Experimental Oncology and Biomedical Technology
Fundamental Medicine
Therapy
Pediatrics
Gastroenterology
Endocrinology
Orthopedics
Traumatology
Combustiology
FSBEI HE PRMU MOH Russia is interested in collaboration at the sphere of higher education and postgraduate studies.
Federal State Budgetary Educational Institution of Higher Education «Privolzhsky Research Medical University» of the Ministry of Health of the Russian Federation is interested in collaboration in higher education and advanced training of specialists.

General Medicine 31.05.01 060101
Pediatrics 31.05.02 060103
Dentistry 31.05.03 060201
Preventive Medicine 32.05.01 060105
Pharmacy 33.05.01 060301
Nursing 34.03.01
FSBEI HE PRMU MOH Russia consists of not only a university as an educational establishment, but also a university hospital and research institutes
Research Institute of Experimental Oncology and Biomedical Technologies
Research Institute of Preventive Medicine
Institute of Therapy
Institute of Pediatrics
Institute of Traumatology and Orthopedics
Institute of Fundamental Medicine
Institute of Dentistry
Nowadays, FSBEI HE PRMU MOH Russia has many international partnerships worldwide; we collaborate with establishments of higher education and medical establishments of:
Hungary (University of Debrecen),
Czech Republic (Charles University),
France (University of Nice Sophia Antipolis),
Uzbekistan (Tashkent Pediatric Medical Institute, Tashkent State Dentistry Institute),
Germany (Essen University Hospital).
FSBEI HE PRMU MOH Russia has conventions with Chinese higher educational establishments – Jining Medical University and Baotou Medical College. In project is to develop international cooperation in the field of higher education and medicine with Guangdong Pharmaceutical University and Harbin Medical University.
Latest University news
Stay up to date with all the news.