Big fish, little fish, come on, come on!
On March 4, 2023, 20 international PRMU students from Uzbekistan, Tunisia, India and Malaysia were first timers to take part in Chkalov Fishing Fest 2023, the XIV International Festival of Ice Fishing.

The festival program was varied for foreign guests and included a master class in fishing, a Cool FISHka competition, guided tours to the Russian Wings Tourism Center and the Memorial Museum of V.P. Chkalov.

'In my home country of Tunisia, it is easy to catch dorado, sea bass, sardines in the sea. I hope that crucian carp or some other fish will now be on the list of the fish I have caught. Today is my birthday, and I am delighted that I am spending it in such an unusual and funny way' (Srairi Mahmoud).

'I am so happy that I was not too lazy to go fishing! I walked on an icy river and went fishing for the first time in my life. I was lucky enough to catch one fish, though it was not gold. All of us had a whale of a time!' (Kalandarov Fariddun).

'Winter fishing turned out to be quite an adventure, even though I did not catch any fish. The trip was very informative, we got to know many exciting facts about the life of Valery Pavlovich Chkalov whose monument stands next to our university. Besides, we made fish scalers with our own hands. I am going to buy fresh fish and try to scale it with my handmade fish scaler. Thanks to everyone who hosted such an unforgettable trip for us' (Kurambaev Zhushkinbek).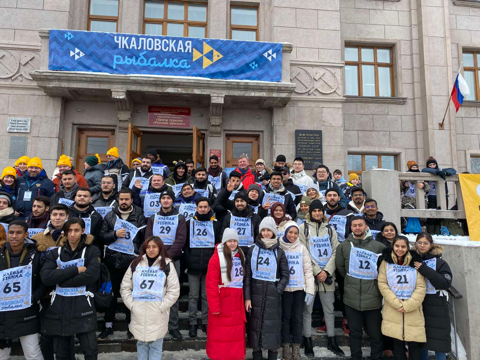 Latest University news
Stay up to date with all the news.